10x Genomics
Chromium Single Cell Immune Profiling
Cell Ranger5.1 (latest), printed on 09/22/2023
Loupe V(D)J Browser Tutorial
| | |
| --- | --- |
| | Documentation and downloads for Cell Ranger 7.2 and Loupe Browser 7.0 are now available on our redesigned Cell Ranger software support site. This site is being maintained temporarily to support older versions of Cell Ranger and Loupe Browser, and all versions of Loupe V(D)J Browser. |
Welcome to the Loupe V(D)J Browser tutorial. In the next few pages, you will learn how to explore the data generated by a single Cell Ranger run on a human T cell sample spiked in with 40% CMV, 10% Flu, and 5% SARS-CoV-2 (COVID) reactive cells.
The tutorial will cover how to find and filter top clonotypes based on antigen specificity, examine V-J genes, search for CDR3 motifs, and delve deep into 10x Genomics Single Cell Immune Profiling data.
Background
This tutorial assumes some familiarity with the basic principles of both V(D)J recombination and sequencing, but here is a quick review of the terminology:
For other terminology, refer to the Glossary.
Setup
Before beginning the tutorial, make sure to download and install Loupe V(D)J Browser. The tutorial dataset is bundled into Loupe V(D)J Browser and can be accessed by clicking on 'VDJBEAMTutorial' on the browser home page. The corresponding .cloupe is available for download.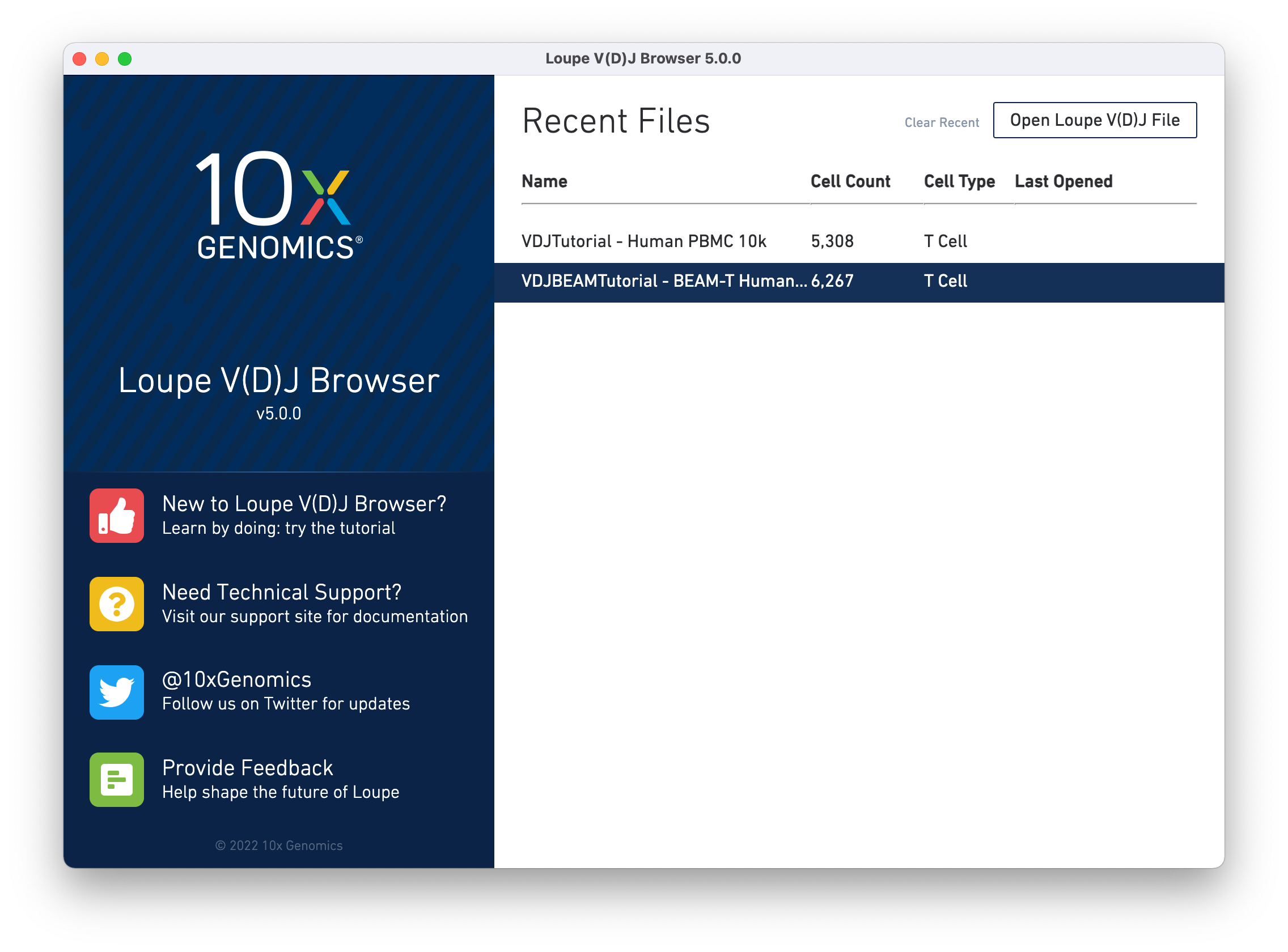 Another way to access the tutorial dataset is by clicking on 'Load Tutorial Dataset' from the Help menu. Once the dataset is loaded, click here to explore the main user interface.
About the tutorial dataset
The sample in this tutorial dataset contains Human T cells that were spiked in with 40% CMV, 10% Flu, and 5% SARS-CoV-2 (COVID) reactive cells. The sample was labeled with CMV, Flu, EBV-BRLF1, EBV-BMLF, and COVID peptide antigens bound to the A*02:01 MHC allele. A detailed description of the dataset is provided on the public datasets page.